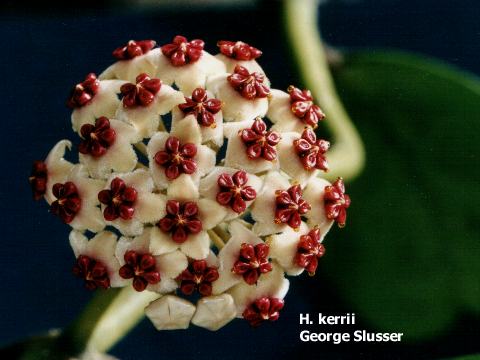 Hoya kerrii

Reference:


species kerrii


author Craib.


published in KEW BULLETIN p. 418 (1911)

translation from Latin published in The Hoyan, Vol. 2 (1980):13 from KEW BULLETIN (1911) page 418 and 419
(reprinted below)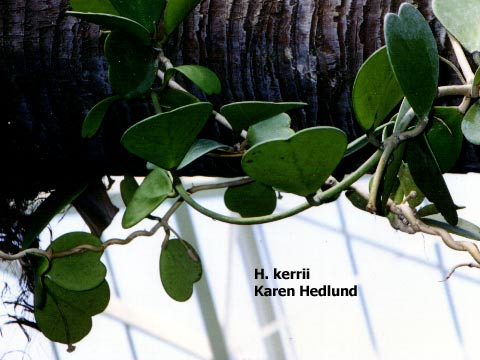 TRANSLATION
"Hoya kerrii, Craib, New species, differs from H. Obovata, Decaisne,by leaves at the apices bi-lobed, flowers twice smaller and reflexed."

"Stem climbing, glabrous. Leaves opposite, obovate or orbicular,apices bi-lobed, lobes rounded, base broadly cuneate or somewhat rounded, 4 to 12 cm long and 5 to 9.5 cm broad, margins turn under, petiole 5 to 15 mm long, 5 mm thick; umbel 4 to 5 cm in diameter; peduncles 2 to 3 cm long, 3 mm thick, glabrous; pedicels thin, 1.3 to 1.8 cm long, puberulous. Sepals ovate-oblong, somewhat obtuse, 2.5 mm long, puberulous and ciliate. Corolla with lobes reflexed 9 mm in diameter; outside glabrous, inside papillose-puberulous, white, round and rose-tinted; lobes triangularovate, acute, 4 to 5 mm long 4 mm wide, turned down and under. Corona lobes thick and fleshy, 2.5 mm long, acute, chaneled beneath, above concave with a small swelling in the cavity, reddish. Chiengmai, in Eng Jungle on Doi Sootep, 390 meters above sea level. Herr #1810. A living plant sent by Dr. Kerr to the Royal Botanic Gardens, Glasnevin, Dublin, which flowered there in August of the present year, differs from the wild specimens only in having a minute and scanty pubescence on the stem, peduncle and both sides of the leaf which may be due to change in climatic conditions."

kanyakumariana | kenejiana | kentiana | kerrii | lacunosa | lambii | latifolia | lauterbachii | linearis | longifolia | thumbnails | home